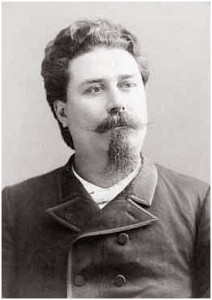 Over at the main Fair Use Repository site, there's been some ongoing work on transcribing material from Liberty, availing ourselves of the fantastic resources that Shawn Wilbur has made available at Travelling in Liberty. (Travelling in Liberty is a complete online archive of PDF facsimiles of all 403 issues of Liberty, as well as the 7 issues of its German-language sister publication, Libertas.) One of the major ongoing projects over here at Fair Use is to transcribe the text available in these PDF facsimiles and make it available in readily-searchable, readily-readable, readily-citable HTML.
To-day, the ongoing Liberty transcriptions have given us a letter from the Michigan labor organizer, poet and individualist Anarchist agitator, Joseph A. (Jo) Labadie. The letter, framed as a response to a friend's worries about the possibility of civil order under Anarchy (or, alternatively, about the legitimacy of using statist laws to establish civil order in a governed society), appeared in the February 23, 1895 issue of Liberty:
Read, cite and enjoy!