A few weeks ago I mentioned that we had added a 1907 short study on "Slavery in Auburn, Alabama" to the Fair Use Repository. The booklet was published as part of the Alabama Polytechnic Institute Historical Studies series. Meriwether Harvey is listed as the author of the booklet; it is evident from the text that Harvey based the study on some fairly extensive first-hand interviews with family or acquaintances in some of the prominent white families that had formerly owned slaves in the area of Auburn, and also at least some interviews with local African-Americans who had been born under slavery. If you wanted to find information about the author, though, what was available was fairly limited. Harvey was not a member of the Alabama Polytechnic faculty in 1907, and the booklet gives no further detail about its author.
John David Smith, the author of An Old Creed for the New South (2008), describes the the booklet and its author on pp. 173-4, 179:
Fortunately, a talented amateur historian and a number of graduate students went beyond such romanticized views of slavery on the state and local level. […] Meriwether Harvey and James K. Turner conducted even more minute grass roots research on slavery in Auburn, Alabama and Edgecombe County, North Carolina, respectively. […] The essays by Meriwether Harvey and James K. Turner remain important because they represent the type of micro research on slavery that still cries out to be written. Harvey, a student at Alabama Polytechnic Institute at Auburn, made the most detailed examination of the period of slavery in any one locale. He focused on slavery in Auburn, in 1860 a small cotton-producing community of one thousand whites and seven hundred blacks….
Smith helpfully, and correctly, identifies Meriwether Harvey as a student at Alabama Polytechnic (now known as Auburn University) — but misidentifies Harvey as "he." After a bit of research with old copies of the Glomerata at the Auburn University Library Special Collections section, I can now introduce you to Miss Meriwether Harvey, a 19 year old Senior co-ed student at Alabama Polytechnic Institute, who graduated with honors as part of the Class of 1907. Alabama Polytechnic (formerly the Agricultural and Mechanical College of Alabama) had in fact admitted a small number of female students since 1892, — including Miss Meriwether Harvey.
Blockton, Ala.

"Merie." General.

A very congenial piece of curiosity.

Despises frivolity. "Isn't the Captain of Company K handsome!" Believes in maintaining her rights and doing the right. A natural-born mythologist. Always eager to talk about the Conway Cabal (?). Never sends post cards to the professors. Hardest boner of Co-eds. Pretends that she is going to "IV" but makes I's. "I'm shocked to think that Napoleon wrote L-O-V-E letters."

Honorary member of Websterian Literary Society; Distinction '05.
This is from p. 41 in the Senior Class section of the Glomerata, API's official yearbook, Vol. X for the school year ending in 1907.
Ms. Harvey was one of only eight women enrolled at Alabama Polytechnic in 1907. She graduated with honor as part of the Class of 1907; here is her listing in the 1907-1908 Alabama Polytechnic Institute catalogue: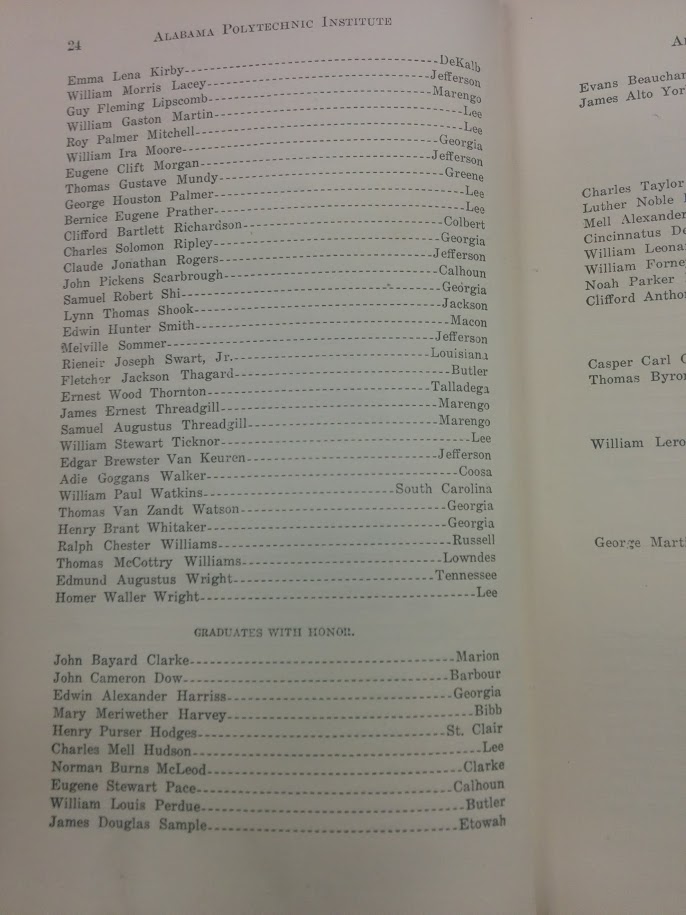 Many thanks to the Auburn University Archives and Special Collections Department for their help in locating and identifying the author of this remarkable local study. More information about Meriwether Harvey is now available through Meriwether Harvey at "Notes from the Margins".